We produce and sell Trentino quality since 1922
The production process
Preparation process and technologies of a controlled chain
Claudio Remo Anselmi selects exclusively the meat of the finest and domestic cattle and pigs to prepare its traditional delicious products. The excellent quality of the carefully selected meat is stored properly, before taking part of the preparation procedure, in specific refrigerators to avoid the proliferation of microorganisms. To ensure a further level of transparency, quality and in accordance with the legislation in force, a traceability system has been used for years that guarantees a complete identification of the raw material and of the finished products at each stage of the production chain. This specific system provides the consumer with a complete scenario regarding the provenance and the route taken to transport the purchased food.
In almost a century of history, CRA Anselmi, has constantly prepared its products with extreme passion, care and accordingly to the traditional processes to ensure a high quality result. Products offered by CRA are real masterpieces of taste, nutritionally complete, fragrant, and always genuine.
A high quality result achieved and constantly perfected over the years thanks to the combination of skillful handmade elaborations and technologies, such as drying and seasoning cells in which environmental parameters and products can be regularly monitored during the production process.
The technology is properly combined with tradition; for example the delicate balance between temperature, humidity and air exchange is accurately modulated and measured in order to assure the best conditions for a perfect production and seasoning process.
Thanks to their solid experience the master butchers Anselmi can daily analyze products conditions and seasoning progression.
Find out where your pork meat comes out!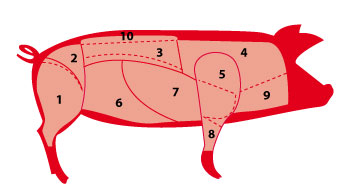 1 Haunch or Ham
2 Topside of the pork
3 Loin
4 Pork neck
5 Shoulder
6 Bacon
7 Pig's ribs
8 Shin
9 Pig's cheek lard
10 Back fat/ lard
Orari di apertura
Monday to Saturday
7:30 - 12:00
15:30 - 19:00
News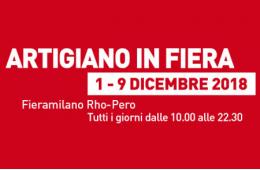 L'artigiano in fiera 1 - 9 dicembre 2018
Anche quest'anno parteciperemo alla manifestazione fieristica L'Artigiano in Fiera a Milano Rho-Pero, dall'1 al 9 dicembre 2018. Vi Aspettiamo numerosi ad assaggiare i nostri prodotti!
more