We produce and sell Trentino quality since 1922
Gift boxes and baskets
Claudio Remo Anselmi's butcher in Dimaro offers baskets and gift boxes for Christmas, Easter or any other occasion and anniversary.
Claudio Anselmi Remo ensures delivery of gift boxes and baskets at destination within a few hours from the purchase by relying on qualified and efficient couriers. In particular, the delivery is guaranted on the same day of the order if this latter has been realized in the morning hours and the destination is inside the Trentino region; otherwise delivering takes 48 hours to be completed. There are many gift ideas, Christmas hampers and gift boxes with products selected from our traditional production and many other goods. One section of our store department is specifically dedicated to the confectionery goods.
At Christmas, at Easter and on all important occasions we provide a wider range of gift proposals, dedicating an entire showroom to tempting and prestigious gift ideas and gifts specifically for business celebrations. Hundreds of food specialties are yearly offered by Claudio Remo Anselmi's butcher: from the most renowned to typical Trentino products.
Moreover the following delights are offered: cakes, pastries, meats, oils of our Trentino, smoked meats and cheeses, spicy sausage, candy and other sweets of most popular quality. In our store you can find typical products from the whole Italy cuisine that can be individually bought or, according to customers' preferences, they can be part of an elegant gift boxes for Christmas and other occasions.
For these reasons at Christmas and Easter, but also anytime you wish to make a beautiful gift, Anselmi's butcher will carefully realize your desired gift boxes, offering the opportunity to choose between: Christmas hampers, gift boxes consisting of meat or wine, champagne and various spirits. In addition, Christmas baskets composition, both for individuals and businesses, are realized with typical regional products.
Orari di apertura
Monday to Saturday
7:30 - 12:00
15:00 - 19:00
Sunday*
Riposo settimanale
News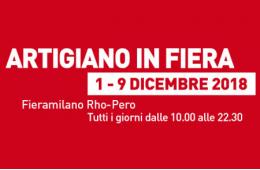 L'artigiano in fiera 1 - 9 dicembre 2018
Anche quest'anno parteciperemo alla manifestazione fieristica L'Artigiano in Fiera a Milano Rho-Pero, dall'1 al 9 dicembre 2018. Vi Aspettiamo numerosi ad assaggiare i nostri prodotti!
more